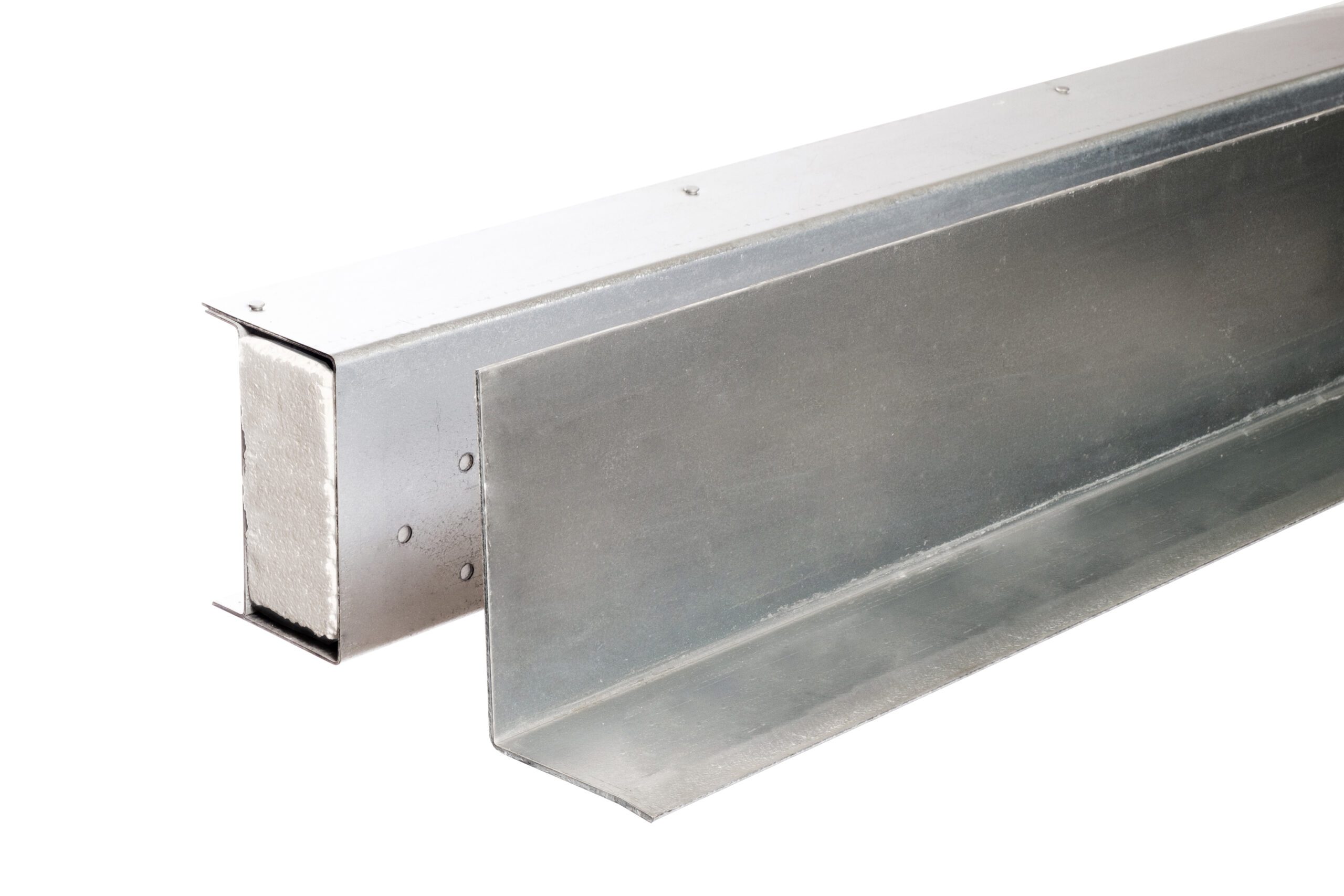 UltraTherm Lintels
At UK Lintels, we have designed our own concept of Thermally Efficient Lintels. Which are the most cost effective and most available from stock, on the market!
What are they?
They're an energy efficient type of steel lintel used in masonry cavity wall constructions. They provide support over the structural openings (doors and windows), whilst reducing linear thermal bridging heat loss compared to regular cavity lintels. Our own brand version is a split lintel solution. Split lintels are also the most thermally efficient lintel on the market with 0.010 Psi value (Catnic BSD & Angle) compared to 0.043 (Catnic one piece Thermally Broken Lintels).
Psi Value Image Source: Catnic Sept 2022 Product brochure & Separate Lintels Full Fill cavity Wall Construction Psi values 5-2-15. Split lintel data an example of using a Catnic BSD insulated & ANG angle lintel. UltraTherm lintels are am alternative to these two lintels.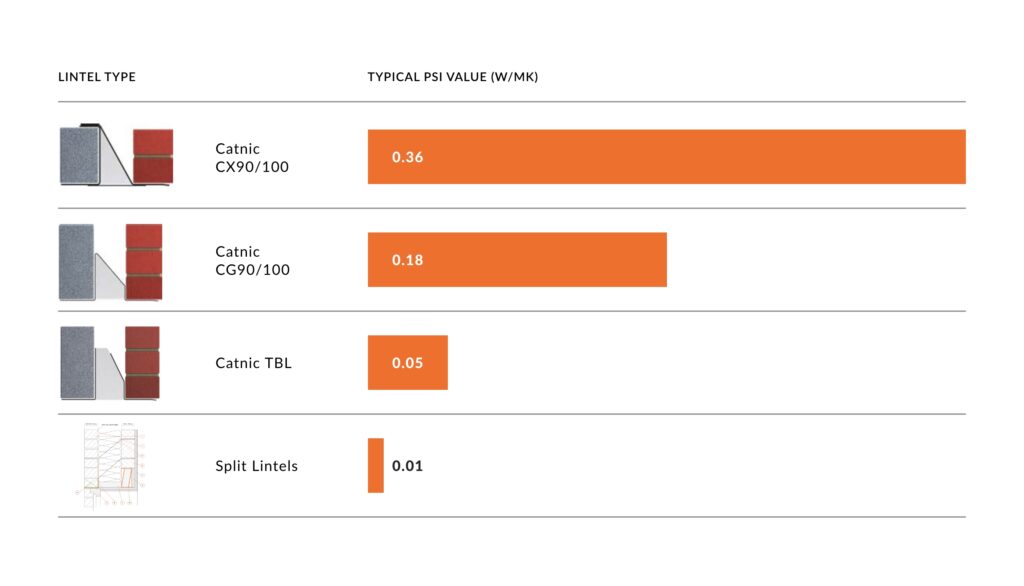 What are the advantages of our UltraTherm Lintels?
It is the most versatile energy efficient lintel solution on the market.
This is the most available thermally efficient lintel system, all items are in stock and available for Next Day & Fast Track delivery. Therefore, no costly down time waiting for materials.
It is the most cost effective (available from stock) thermally efficient lintel solution on the market.
Suitable for any cavity size. There are no restrictions on cavity widths.
There is an insulated internal box, therefore, your cavity and the inner leaf is insulated. You do not have this with a one piece thermal lintel.
Using an energy efficient lintel improves the thermal performance of the wall and focuses on the increasing proportion of heat lost through thermal bridges. Lintels can be a major thermal bridge in a building. Therefore, the lower the psi value, the better for the overall performance.
How can I improve the psi values?
You may use things such as:
Lintels with perforated base plates.
Lintels without base plates.
UltraTherm split lintels (which is a separate lintel for the inner and outer leaf).
Thermally broken lintels (Catnic | IG Keystone | Birtley).
Thermal Performance
Target fabric energy rates, target CO2 emission rates, and target primary energy rates for the foundations of the Building Regulations Part L 2021. They set the energy requirements for the new buildings and are all influenced by the performance of the fabric. Selecting a Thermally Efficient Lintel can play a significant role in reducing heat loss associated with thermal bridging.
Heat loss through the building fabric is expressed as a U value and measured in W/M2K, while heat loss via linear thermal bridges is expressed as a psi value and measured in W/Mk. The total fabric heat loss is the sum of the combined fabric U value multiplied by the total area, plus the product psi value of junctions and their total length.
Improving the thermal performance of the wall emphasises the increasing proportion of heat lost through thermal bridges in the building fabric such as lintels. Lintels can be a major thermal bridge in a building, and the lower psi value, the better for overall performance.
Buildability Myths of 2 piece lintels vs 1 piece lintel
There are some myths (created by the manufacturers of the product) that using split lintels isn't as efficient for buildability purposes. We give some simple answers to those myths;
Confusion over site installation. One piece manufacturers argue that they are easier to install. We've produced an installation guide (right) to assist in the installation of a UltraTherm Split Lintel. Building two courses with separate lintels is not a new concept and will not be alien to any experienced bricklayer. A competent bricklayer will see no issue with this detail.
No DPC required for a one piece lintel. A DPC is required for a UltraTherm lintel but we would endorse that it is good practice for any opening to have a separate DPC installed above the lintel. IG/Keystone even show this in blue in their product image online and in their brochure. For many areas of the UK a separate DPC is still required for any lintel as per NHBC guidelines.
Cavity Closer required – Yes, a one piece lintel does close the cavity without a cavity closer but these are very inexpensive items at around £9 for a 2.4m length and available off the shelf. The cavity closure also provides a better overall site detail.
Lack of stability – Stability between the inner and outer leaf comes from the wall ties. The one piece lintel has very little impact on stability and once the mortar has cured even less.
Angle and Channel lintels to the outer leaf need to be propped. Whilst it is always good practice to prop single leaf lintels they do not need propping up to 1200mm long as long as they are installed with 2 courses of bricks, allowing the mortar to fully cure before applying further load. 1350mm–2400mm (1 prop), 2550–3600 (2 props), 3750-4800 (3 props).
What we offer
In our Thermally Efficient Split Lintels we offer different duties (Standard, Heavy, Extra Heavy) and various inner/outer leaf sizes to suit your requirements.
This lintel solution is in stock and available for Collection from our branch in Bristol, Next Day Delivery or Fast Track Delivery, Nationwide.
Any more questions?
No problem! You can contact us our technical team will be happy to assist you!