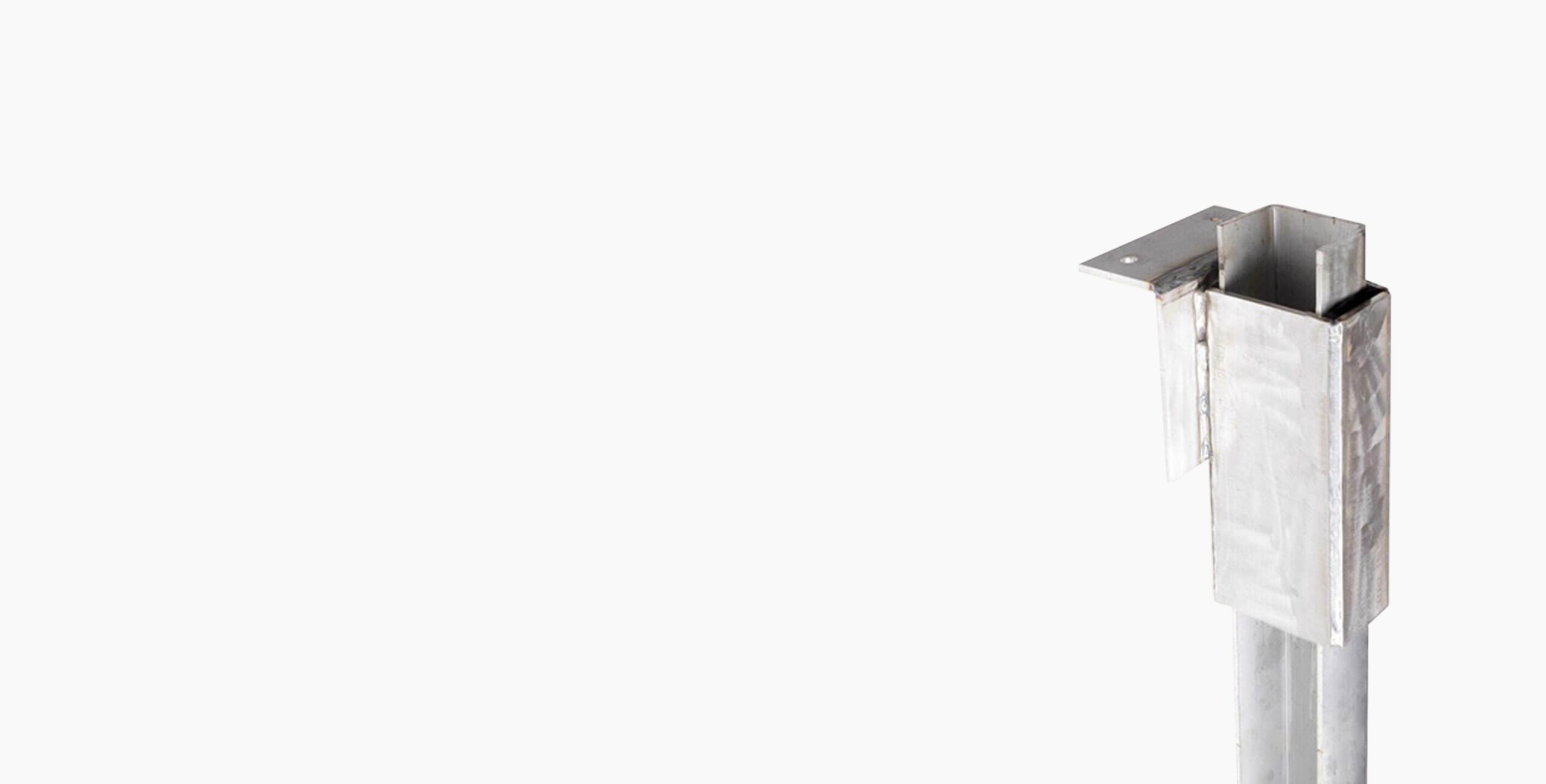 What Is a Windpost?
In construction, windposts serve an essential purpose in providing stability. A windpost is a vertical steel structure usually spanning vertically from foundation to first floor, between floors, or from floor to roof. Windposts are supplied as a complete kit to include the vertical stem, bottom connection, top connection and wall ties and sometimes come with a fixing pack.
The United Kingdom experienced record wind speeds of 122 miles per hour when Storm Eunice hit in early 2022.
We are no strangers to extreme winds in this part of the world. It is more important than ever to ensure stability when constructing homes and buildings. Experts believe that climate change will bring about more severe weather events in the years to come.
When it comes to construction, a windpost is a popular solution to provide extra stability to a wall.
Hundreds of years ago, our forefathers used heavy and oversized blocks of stone in their construction. A benefit of this is that it gave buildings added stability. Modern technology has made it quicker and easier to build houses.
But it has given us thinner masonry walls. This means we need extra support to ensure our homes last long and withstand extreme weather events and other structural issues.
But, what is a windpost, and do you need one? This article will teach you everything you need to know about windposts and their uses in construction.
What Is the Purpose of a Windpost?
There is never a wrong time to add an extension to your home or start that home improvement project you have always dreamt of. Whether you are looking for more space or hoping to upgrade your home, a construction project can be a significant learning curve.
Suppose you are doing a whole new building project, a major renovation that requires building walls, or a whole new floor. In this case, you may find, to your surprise, that your builder or architect is suggesting you install construction windposts.
Imagine you want to remove a wall between your kitchen and living room to create an open-plan kitchen. This may seem straightforward. However, in some specific cases, it can require structural additions such as a windpost to stabilise the build or to split a large panel of masonry.
In construction, windposts serve an essential purpose in providing stability. A windpost is a vertical steel structure usually spanning vertically from foundation to first floor, between floors, or from floor to roof. Windposts are supplied as a complete kit to include the vertical stem, bottom connection, top connection and wall ties and sometimes come with a fixing pack.
There are two general types of windpost;
WP2 – Installed in the inner leaf of a cavity wall

2. WP1 & WP3 – Installed within the cavity between your brickwork inner and outer leaf leaving the brickwork undisturbed.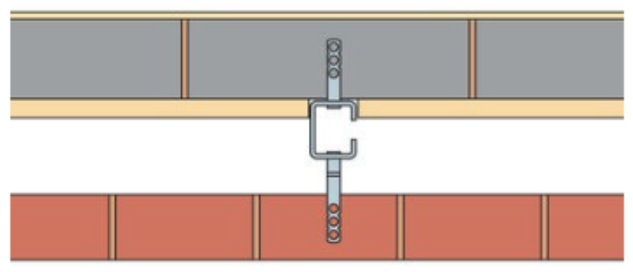 In the past, if you needed stability, you would have built columns or made your walls thicker. If you tried this today, it would make your construction project much more expensive.
In recent decades there have been innovations in the building industry to make your walls more robust and resistant to bad weather and other forces. Windposts are an excellent way to add structural stability to your wall or to reduce the overall size of a panel of masonry.
Windposts are made of stainless steel or mild steel and post galvanized. However, you can fix them to a variety of materials. They can attach to timber, steel, or brick structures.
A structural engineer or architect who analyses your building plans will be able to recommend the proper spacing and placement of your windposts for your project.
How Are Windposts Supported?
If you want to stabilise your walls with windposts, you cannot just place the steel structure between the layers of brick. They need to have anchor points to provide the stability you need.
Windposts are often installed between the inner and outer leaf of a wall. However, you can also place them inside a cavity wall without disturbing the blockwork.
The windpost will often be bolted down into the foundation and supported between different floors. To do this, you will attach the windpost using a specific tie or connection. The type of tie you need will depend on the frame and the design.
These wall ties play a crucial role in reducing the lateral load from the wall. They also allow the structure to move without cracking.
Wall ties will also be placed between the bricks at several points as the wall is constructed. An engineer will calculate the intervals at which you need to tie it. When you buy windposts for construction, you will use special screws and bolts to attach to a steel beam, concrete, or timber structure.
Different Types of Windposts
You will get various types of windposts to fit the particular job you are doing.
U-windpost installed in wall cavity for standard conditions
DU-windpost for heavier loading conditions
LP-windpost, which spans between floor structures
Shorter windpost for windows and parapets
As you can see, there are more than enough options to suit any construction project.
As you can see, there are more than enough options to suit any construction project.
When Do You Need Windposts?
If a structural engineer has said you need to install windposts, you might be wondering why they are even necessary.
As their name suggests, windposts provide valuable protection to a structure if it faces exposure to high winds, earthquakes, or hurricanes. But they also offer stability from pressures that the structure itself can create and reduce the overall panel of masonry.
If you have an extensive panel of bricks or a wall that is longer than a certain distance, you may need several windposts to stabilise the structure. Your engineer may also recommend windposts if your building has several floors.
A classic use of windposts is for bi-folding or concertina doors.
We all want as much light as possible to enter our homes. In modern design, it is popular to have a large door sliding open to give full access to a terrace or garden.
The downside is that when you have such a wide opening in the brickwork, you lose stability. Windposts will be necessary to add the support you need.
If you live in an area with a high risk of extreme winds or earthquakes, you will also need to add windposts to your construction. Even living by the seaside could increase your exposure to elements which weaken the stability of your building.
When Are Windposts Not Necessary?
If you are building a small, one-storey home, you may not require windposts. The same applies if you are only constructing a small extension.
In a tiny building, there are fewer instances of large panels of masonry that will impact the stability. Wind load is more of a concern in tall buildings that use heavy materials.
If you do not have large openings for big windows or sliding doors, you do not have to worry about installing windposts unless otherwise advised by your structural engineer.
How to Order and Design Windposts
So, you have found out that you need windposts. Unfortunately, you cannot just walk down to your local home improvement store and buy as many as you need.
Typically, windposts are bespoke items. You have to get an engineer or architect to assist you in specially designing the windposts you need for your construction project. A manufacturer can configure them to your specific needs but this process will involve issuing construction drawings for review and the manufacturer will provide a technical drawing for approval prior to manufacture. This process can be stressful for the client, and can take up to 4 weeks. Once approved, the manufacture time will be an additional 4 weeks making the whole process take months to receive your product.
Windpost design has advantages because you will know that you are getting a custom-fit product. However, this means a wait of several weeks to receive your product. It also doesn't allow for errors during this technical phase where often the wrong stem length is provided making the delivered product useless and the process needs to be started again. The global supply chain crisis has made waiting times even longer and led to price increases in the construction industry.
Is There a Faster Way to Receive Windposts?
Some people find out they will need windposts when they have already begun building. The idea of losing time and money by waiting for months can be a massive headache.
Another option to get your windposts sooner is by ordering them to your specific requirements.
You can buy three component parts separately, which will be put together at your building site.
The three parts you can order online are:
The top connection
The stem
The base connection
You will want to do this in close coordination with a structural engineer. Technical specifications and drawings are available to guide you and your builder. You will receive a product leaflet with tips for the installation of your windpost.
Yes, A NEXTDAY UKLintel WP3 Windpost (85x60x5)
The top connection will be a choice of fitting to attach to a timber, steel, or concrete beam.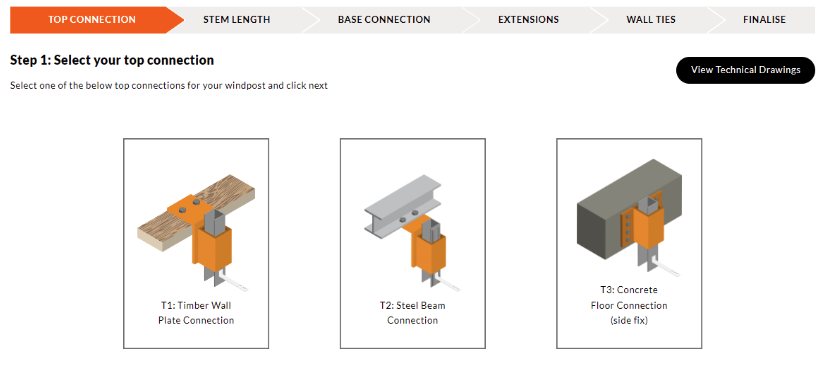 Next, you will decide on the length of the stem you will need.
The options are:
The top brackets are open brackets so the top connection bracket can slide up and down the windpost. Once the top bracket is fixed in to place, the remaining stem can either be left sailing in to the cavity, or cut off on site with a disc cutter and the cut end treated with cold zinc spray which can be purchased online.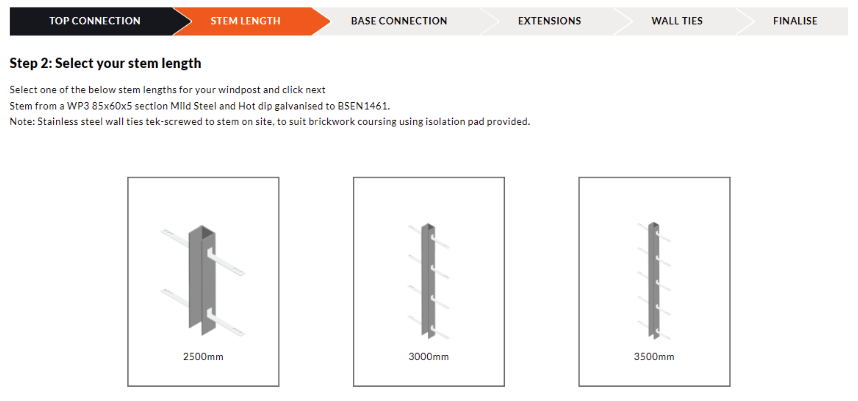 For your base connection, you can choose between a top or a side fix to a concrete base.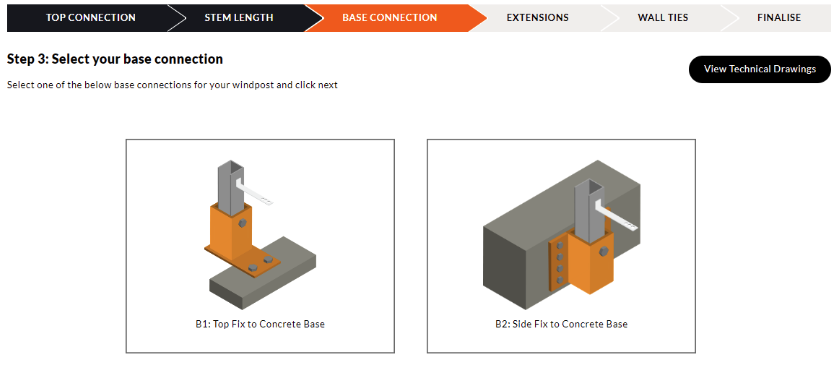 Various extension plates are also available to fit your specific project. This is because cavity wall sizes change with various cavity sizes, inner and outer leaf widths. Typical walls can be anything from 250mm overall (100mm inner leaf, 50mm cavity, 100mm outer leaf) to 405mm. In addition, the position of the windpost within the cavity can sometimes be central or more towards one side (often closer to the inner leaf).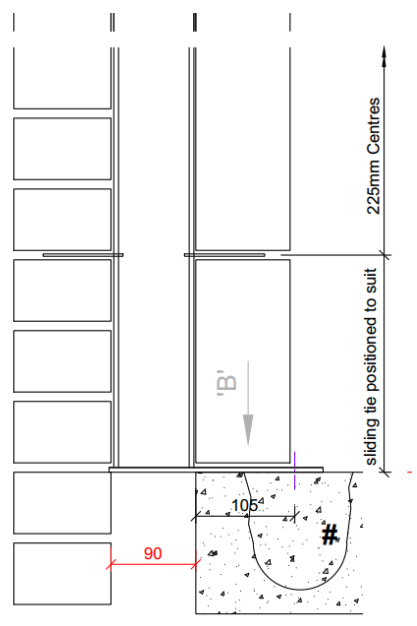 The standard baseplate on our top and bottom brackets therefore sometimes need to be extended to allow for these variations.The extension plates enable this via mechanically fixing additional plates to the existing bracket. Each extension plate consists of two plates and 4 bolts and extend the bracket by 100mm as shown below.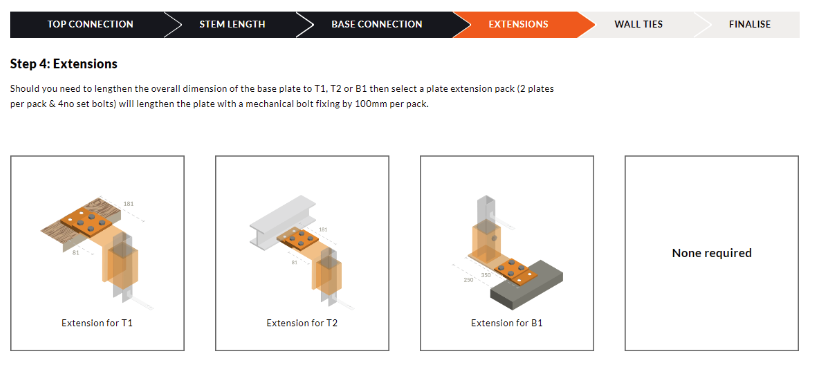 All windpost require tying into the inner and outer wall with the use of wall ties. We recommend that a wall tie pack is added to your configuration as we supply the stainless steel wall tie, tek-screw/ washer and an isolation pad to debond the stainless steel tie from the galvanized stem to prohibit cross contamination of materials.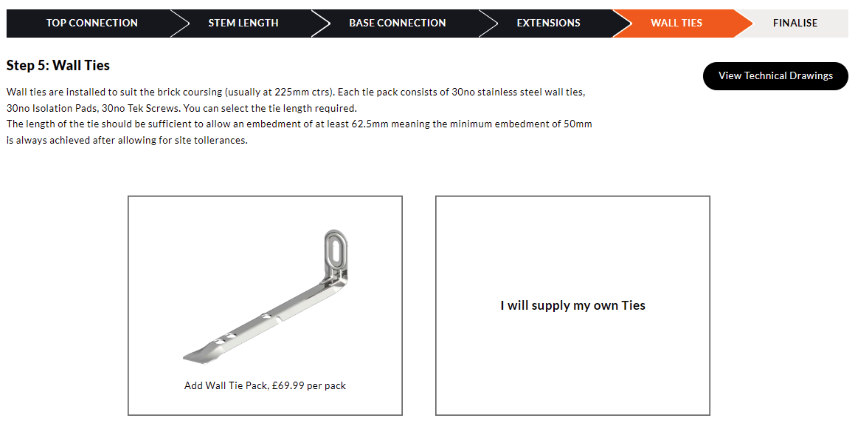 Wall ties are installed to suit the brick coursing (usually at 225mm ctrs). Each tie pack consists of 30no stainless steel wall ties, 30no Isolation Pads, 30no Tek Screws. You can select the tie length required using the options online from 75mm to 200mm tie lengths.
The length of the tie should be sufficient to allow an embedment of at least 62.5mm meaning the minimum embedment of 50mm is always achieved after allowing for site tolerances. The tie length will depend on the overall cavity size, and the position of the windpost within the cavity. Should you require a tie pack with one side longer than the other as shown below, then you will need to add an additional tie pack to your order.

That's it, next day delivery available.
Your windpost is built and can be added to basket (select the qty required) and delivered next day if required (various delivery options are available to select at basket/checkout).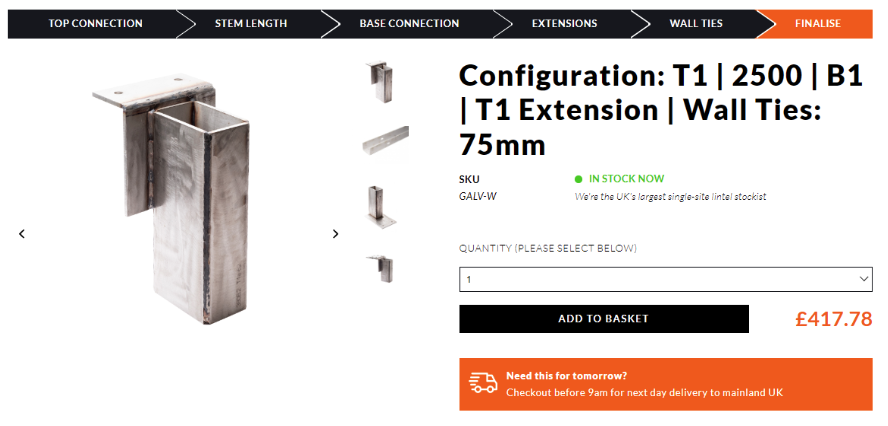 Windpost Design Made Fast and Easy
A construction site can be an unpredictable place. You cannot always tell how long a project will take and what problems will crop up.
Finding out you need a windpost can add to your stress, especially if it will take months to arrive. This can stall your project and cost you money.
Our unique windpost configurator provides a quick and easy solution to this dilemma for galvanized WP3 Windpost (85x60x5 Section).
Contact us for more information or try the online configurator today – BUILD NOW